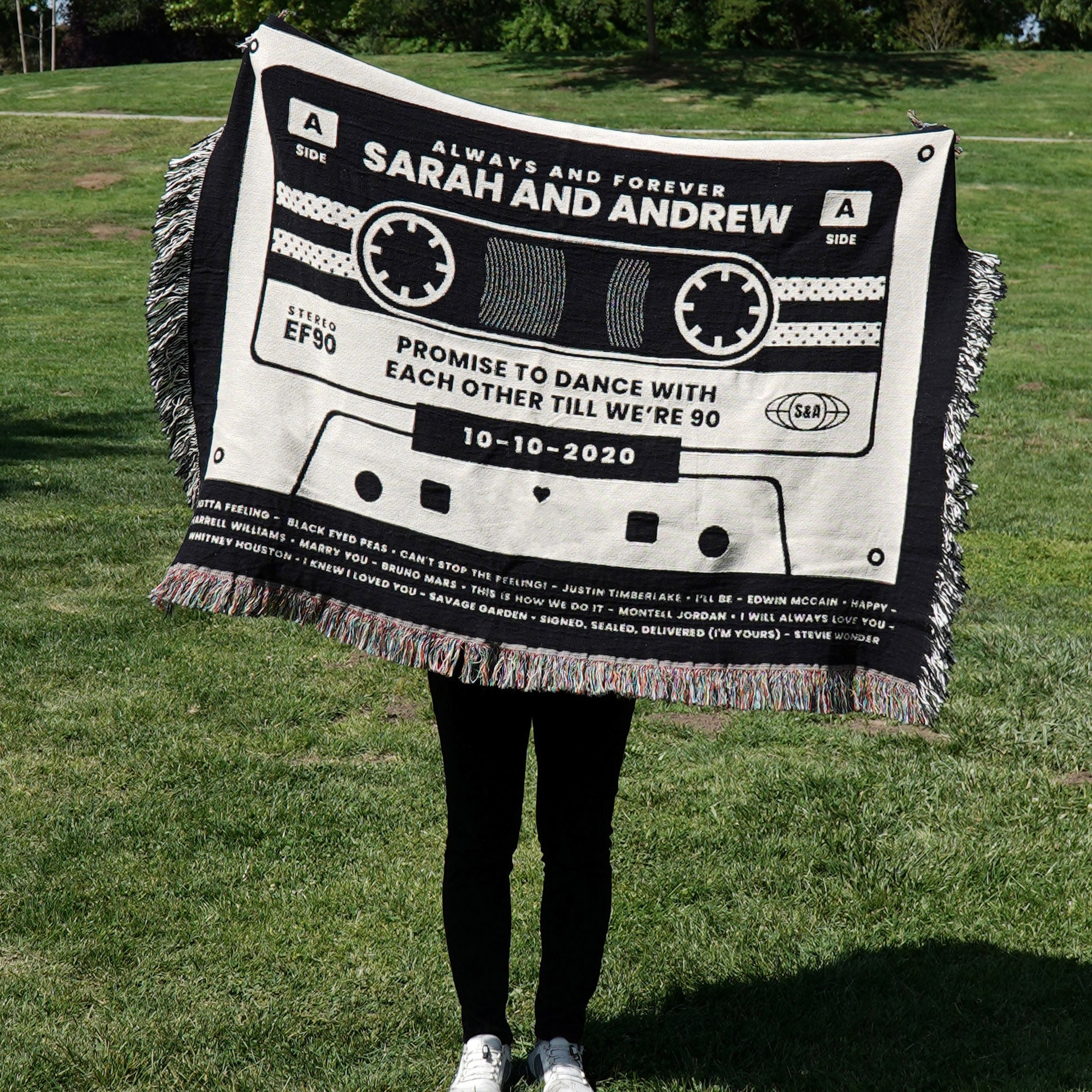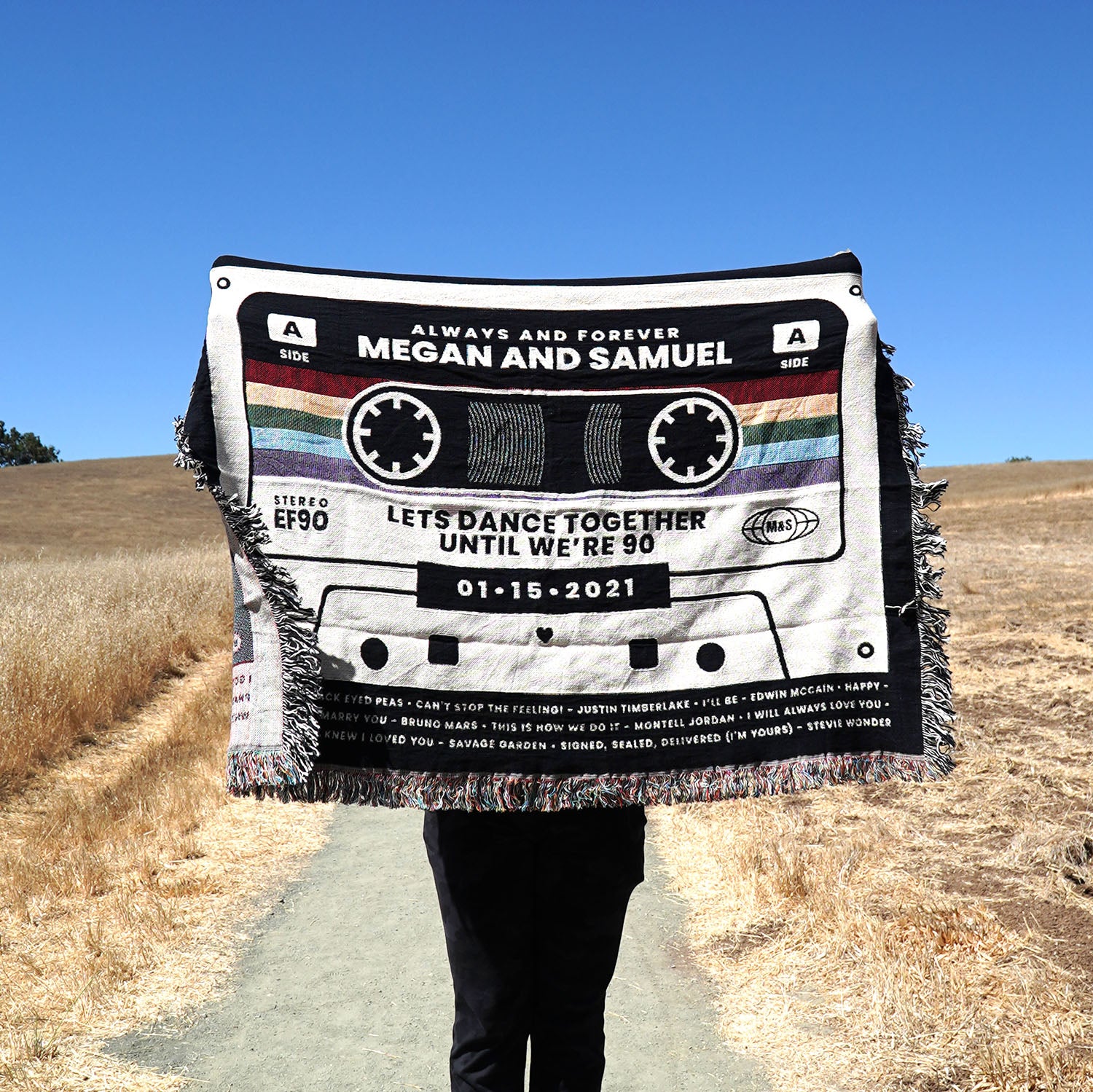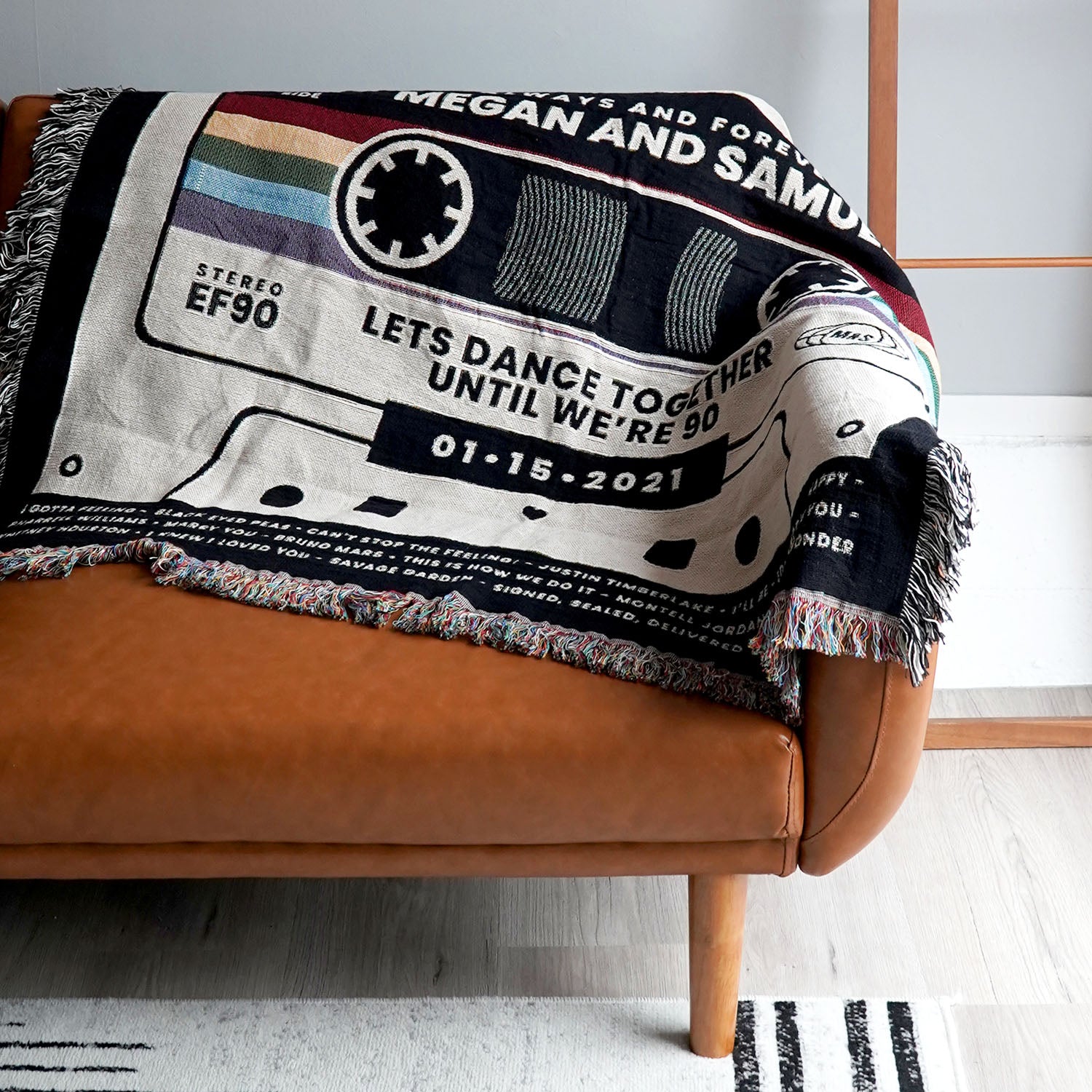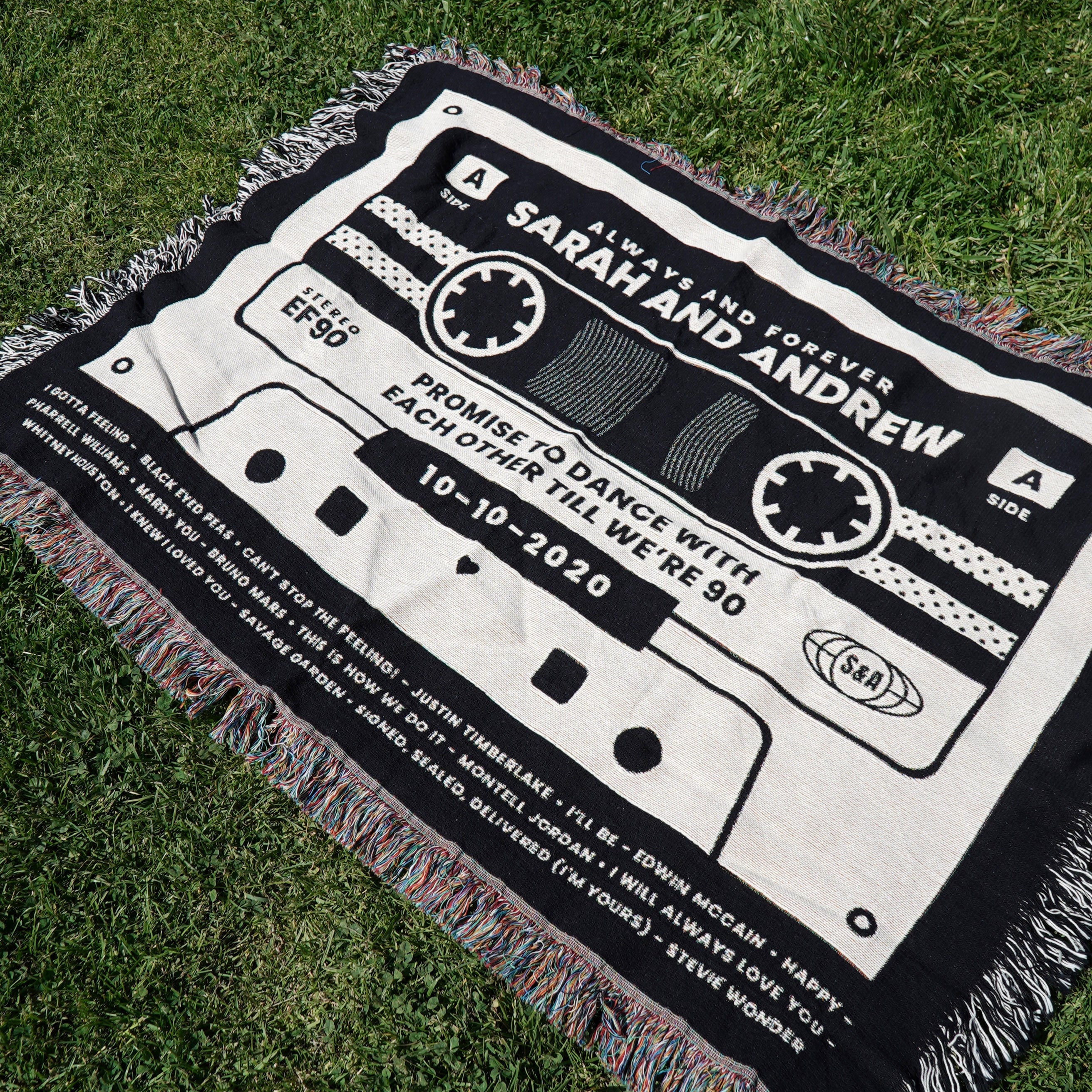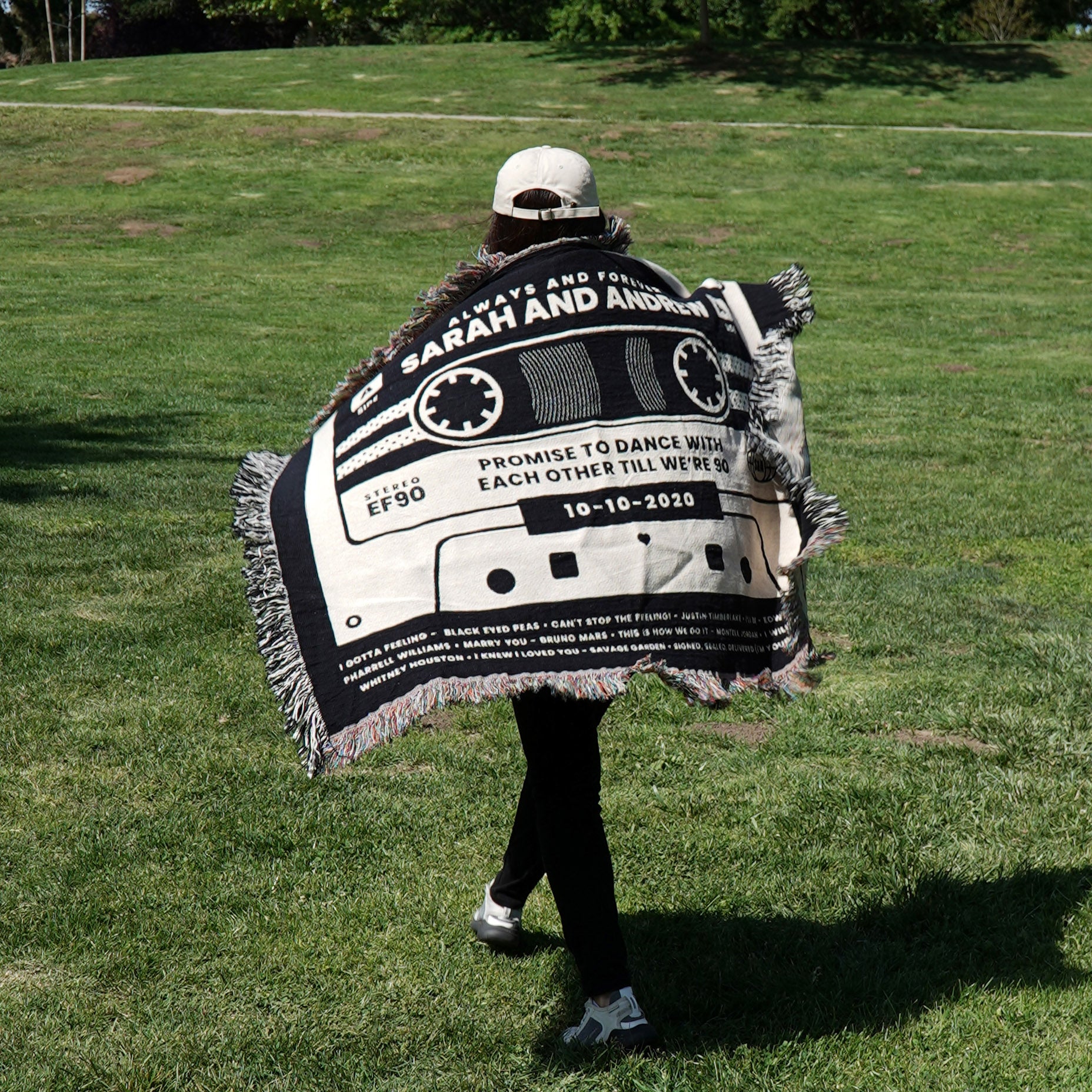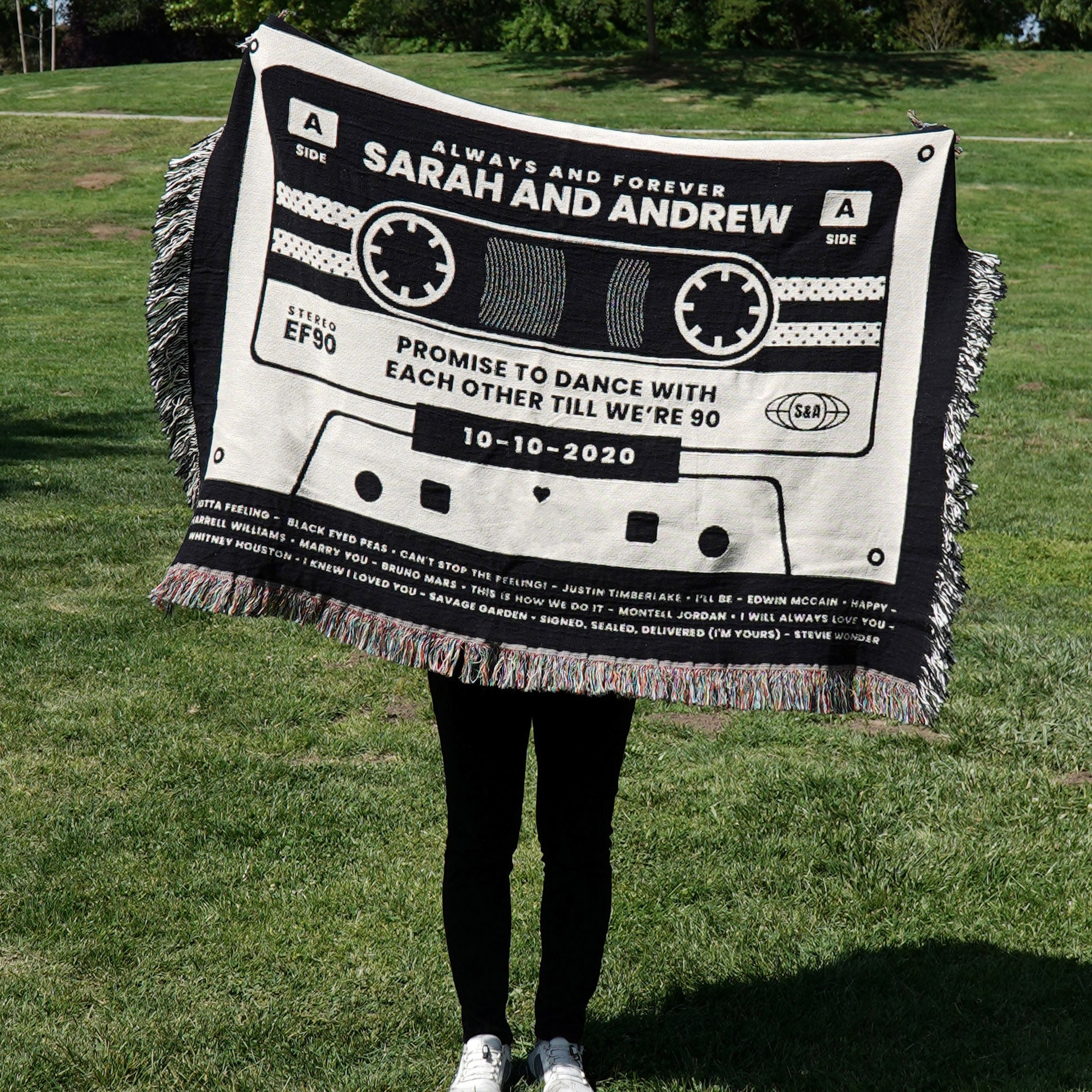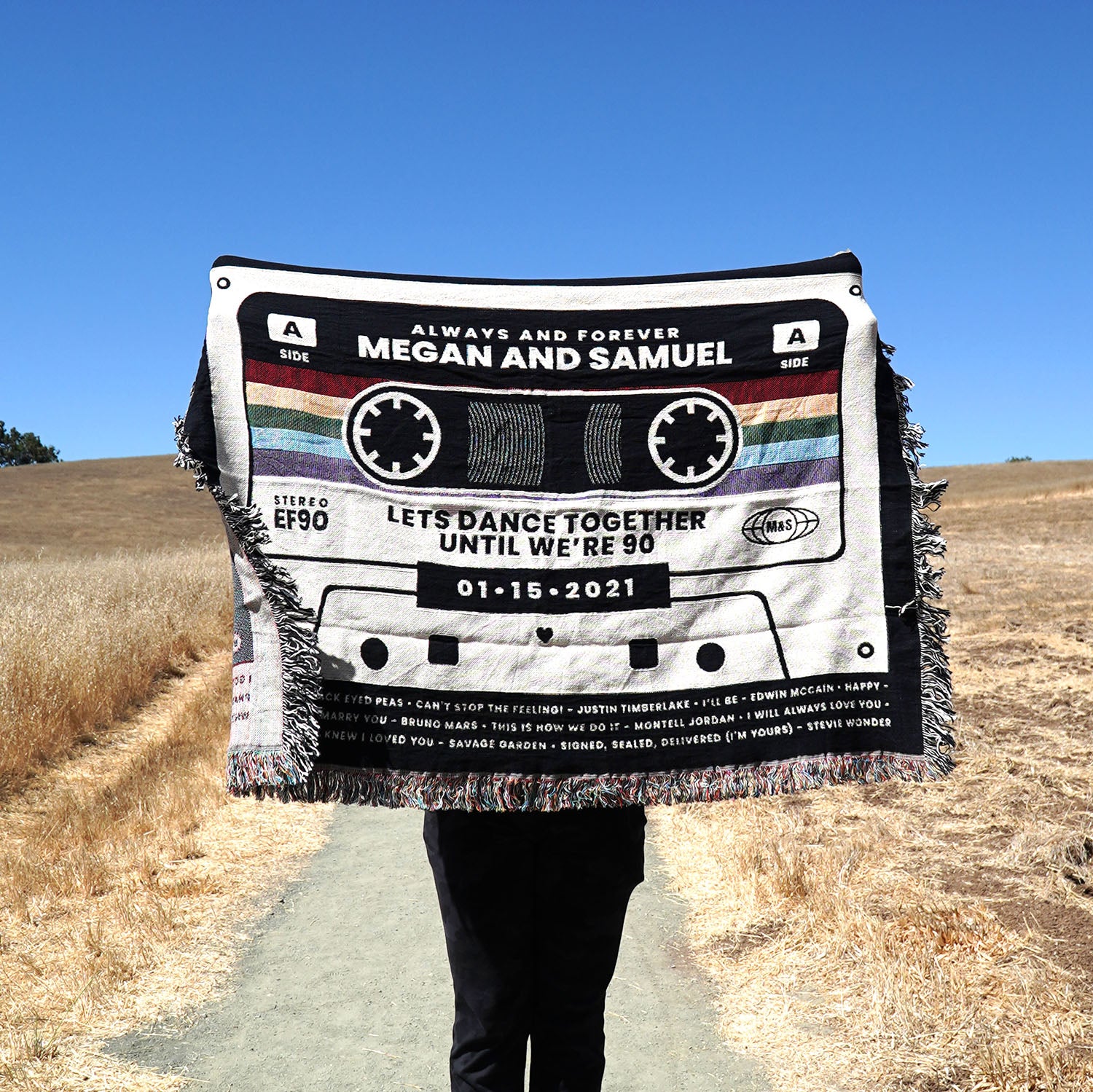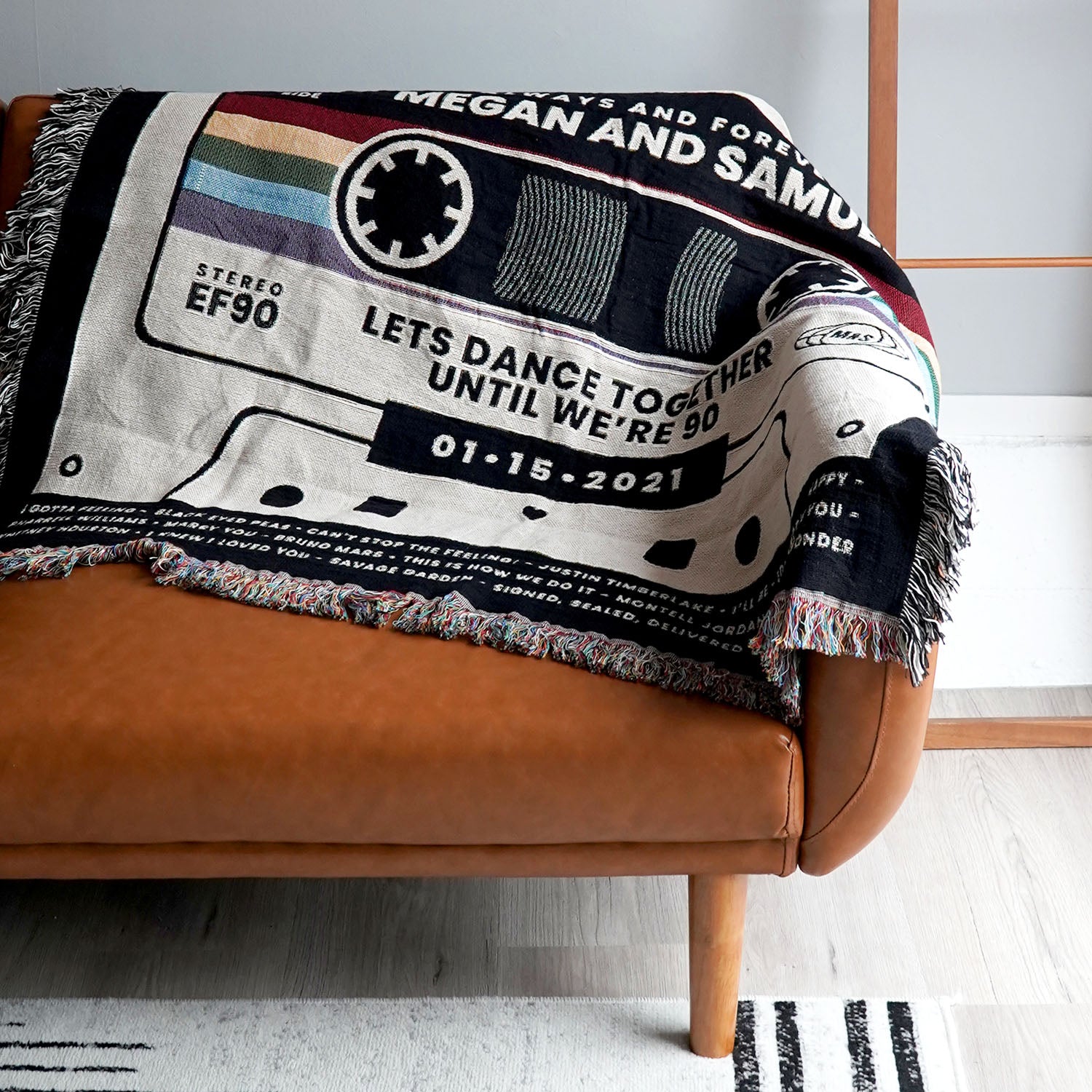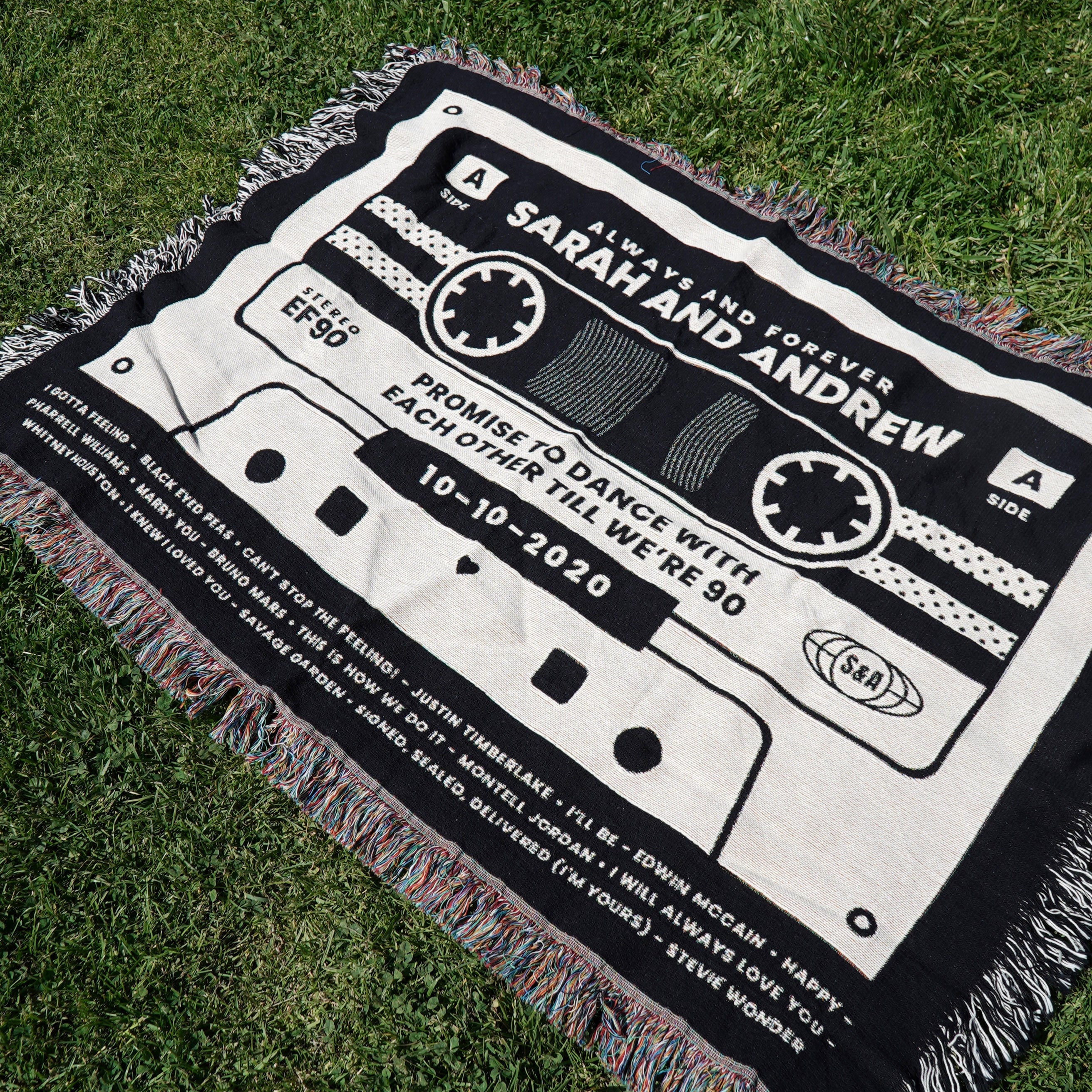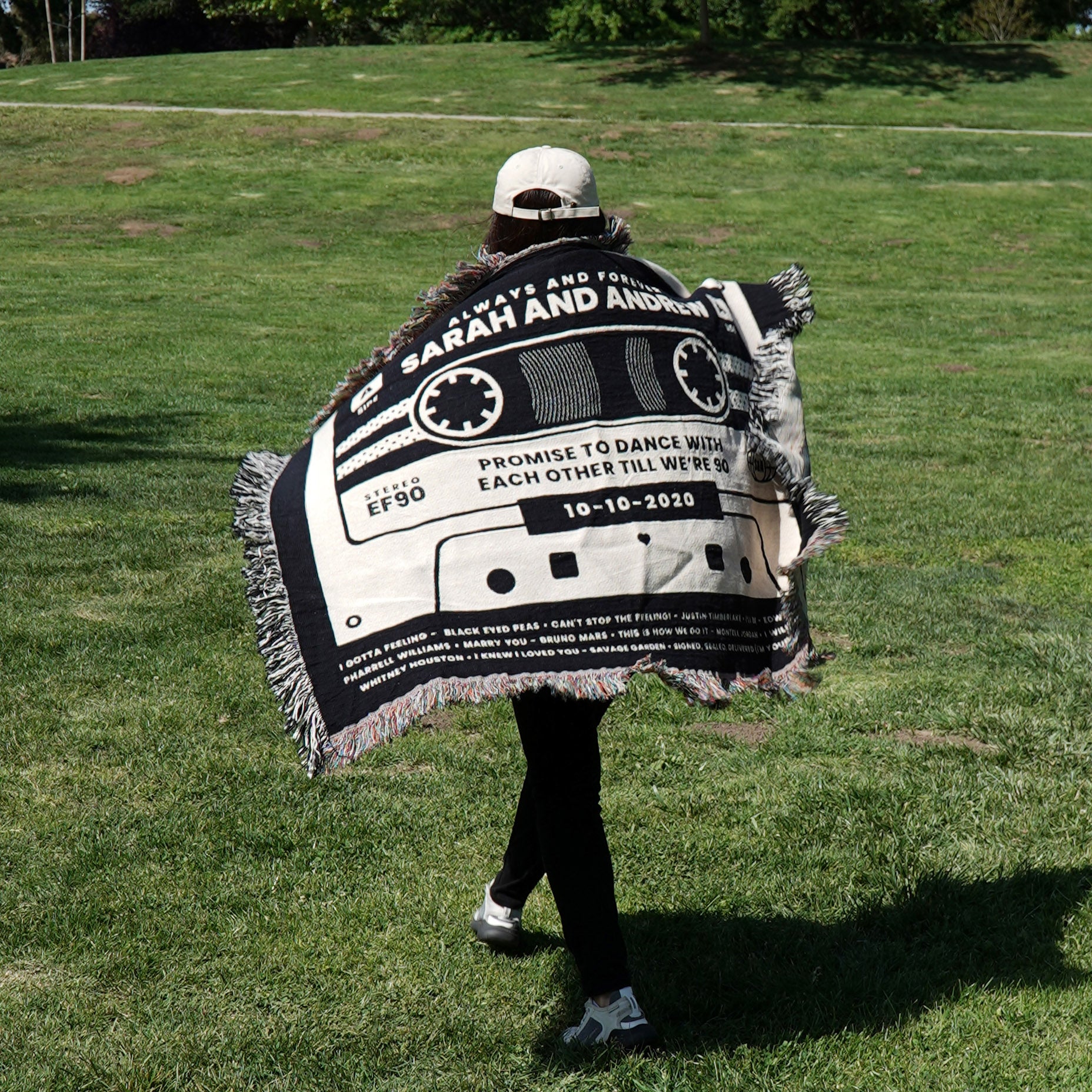 Personalized Couple Mixtape Woven Blanket
✨ Our current production time is 3-7+ business days ✨ No cancellation / custom request after 12 hours 🚚 Free shipping to U.S (mainland) 🇺🇸 Made in USA
📦 How much is shipping? Enjoy free standard shipping to U.S (mainland) on all blanket orders! There's no minimum order required.
🇺🇸 Where is the blanket made? Our woven blankets are made in USA. Crafted from the softest and highest-quality 100% cotton, our woven blankets are perfect for snuggling up on the couch or for adding an eye-catching touch to your bedspread.
🙋‍♀️ Questions about the design / personalization? Send us an email at info@relatablebasic.com and someone from our team will be able to help you!
Love it!
I ordered this blanket for a wedding gift and I love it. The quality is great and the text turned out just like not looks in the preview. Very cool gift!
Loved it
Gifted this to my bf for our 1st year anniversary. It came in a lot quicker than I expected. Quality is great! He absolutely loved it. I added some of our favorite songs from a Spotify playlist that we have created. We love old school items so this was perfect since were both 90's babies. Very great gift.
Perfect!
Exactly what I wanted. Not super soft but woven blankets aren't really meant to be. Super cute, when I gave it to my boyfriend for our anniversary he teared up.
Perfection!
Great quality! Very cozy! Super cute! Quick delivery! Perfect gift for my parents 30th wedding anniversary!🥰 They love it! Y'all are amazing! Thanks so much!
High quality
I've seen these blanket companies online and finally decided to buy one for mine and my wife's second anniversary. I was really surprised how readable everything is on the blanket. I bought the mixtape and listed every song from our wedding playlist (45 songs). It turned out great and my wife loved it. I was expecting it to be unreadable or "pixelated" but it looks great. So that being said, if that's the concern holding you back on buying one of these blankets I would put that thought aside. This will be a fun piece to talk about as our kids grow up :)
Frequently Asked Questions ✨
Currently it takes about 3 - 6 business days to fulfill an order, after which it's shipped out. Upon receiving an order, our designers will work on the design within 24 hours and we'll send the design file(s) to be printed by our production partner. Estimated shipping time for woven blanket: 5 - 12+ business days.
Our woven blankets will be shipped from our production warehouse in North Carolina, US.
Printing production facilities vary between items. Blankets are not printed at the same facility as candles. If your order has multiple items, they may be shipped from different printing facilities and arrive in different boxes on different dates. Each package will have its own tracking number.
Because we don't produce and print the items ourselves, unfortunately we can't include any gift messages on the packing slip. We're working closely with our production partner to make this a reality in the future but as of now, we can't include any gift messages.
Most of our products are personalized and made to order so most of the time we can't offer returns and exchanges unless the items that you receive are not what you expected. We strive to provide 100% customer satisfaction guarantee so please reach out to us if there's issues with your order! 
We recommend washing the blanket in the washing machine using gentle cycle and cold water only. Do not wash it with other clothing materials that may snatch the blanket (it's woven). You can hang dry it or machine dry it using the gentlest cycle.
More about our blankets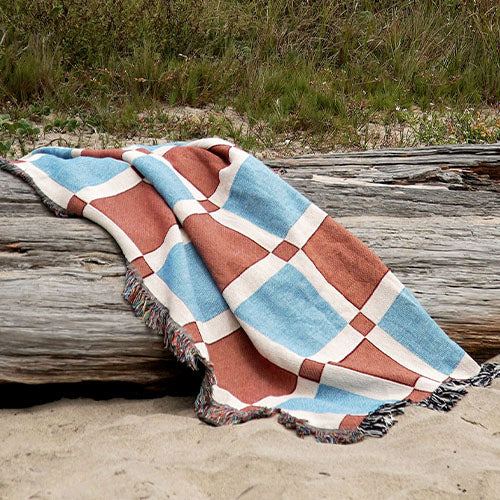 Great for all season
Whether it's picnic on the beach during the summer or binge-watching your favorite show on your living room couch, our blanket will be the perfect companion for you!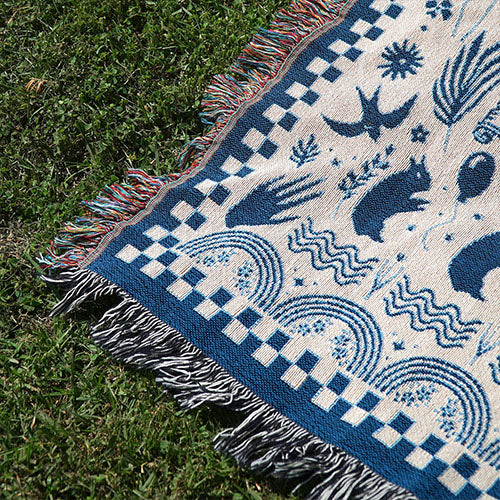 Perfect gift for any occasion
A blanket would be a wonderful gift for any occasion such as birthdays, anniversaries, and weddings, since it will be something that they can cherish forever.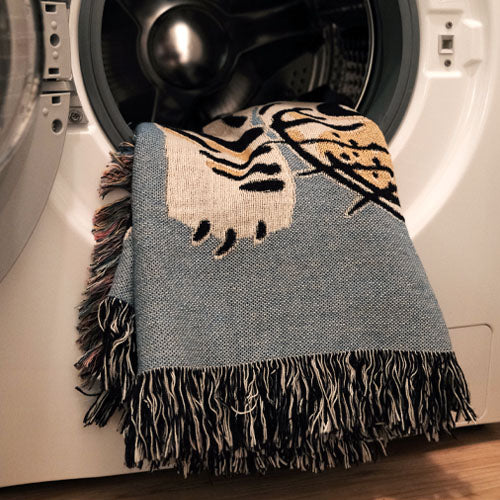 Machine washable
Once in a while, you may wish to wash your blanket. To do that, just throw it into a washing machine using a gentle cycle with cold water and hang it to dry after. Super convenient!